A local favorite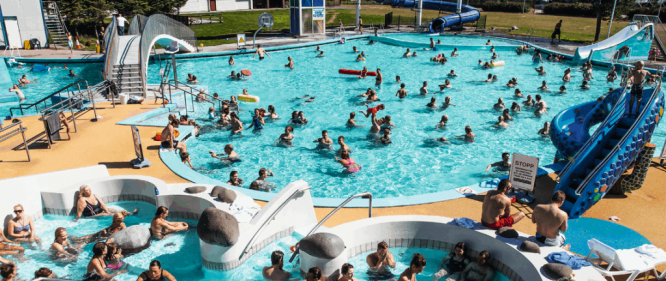 LOCAL GEOTHERMAL SWIMMING POOLS
Soaking in hot water has many health benefits and bathing in hot thermal pools all year round is very common practice amongst Icelanders and dates back to the early settlement of Iceland. Visiting a local thermal pool in Iceland is a great and inexpensive fun for the whole family and a great way to experience the local culture. Many pools offer waterslides and shallow pools for kids and a variety of hot tubs and steam baths for adults. Here is a list of few of our favorite pools in the capital area.
LAUGARDALSLAUG Laugardalslaug is Iceland's largest thermal pool and the most popular amongst travelers. It is located in Laugardalur valley in Reykjavik, only a quick bus ride away from downtown Reykjavík and has a large outdoor pool, outdoor children's pool and paddling pool, water slides, numerous hot tubs and a steam bath. The entry fee is 980kr. for adults, 160kr. for children 6-17 years old and free for children younger than 6. After your soak it's important to stop by the hot dog stand located outside the swimming pool because having an Icelandic hot dog is a crucial part of the whole Icelandic pool experience.
ÁLFTANESLAUG Álftanes peninsula, a suburb of Reykjavik has an impressive local swimming pool, a whole lot of fun for kids. It has two large hot tubs, a kiddie pool, Iceland's biggest waterslide and a wave pool (the only one of it's kind in Iceland). After playing and soaking in Álftanes pool we suggest you stop by Bessastaðir, the official residence of the President of Iceland which is located at Álftanes.
VESTURBÆJARLAUG A small pool in close vicinity to downtown Reykjavik. The pool is one of the oldest ones in Reykjavik and is popular amongst downtown locals. It's a no frills swimming pool without slides or a fancy wave pool but just a nice and friendly local pool with great hot tubs, sauna and a steam room.
SUNDHÖLLIN - THE SWIMMING PALACE Located downtown Reykjavík is the oldest public baths in Iceland, Sundhöllin. It was designed by the noted architect Guðjón Samúelsson and opened in 1937. The building's exterior is a minimalist white that is almost Art Deco in style with tall narrow rectangular windows. In Sundhollin you will find a 25m outdoor pool, 25m indoor pool, diving board, sauna, steam bath, hot tubs, kiddie pool, wading pool, massage tub and a cold tub.