We are aware that we have an impact on the environment and the community and so we work continually towards getting our sustainability goals.
Green Key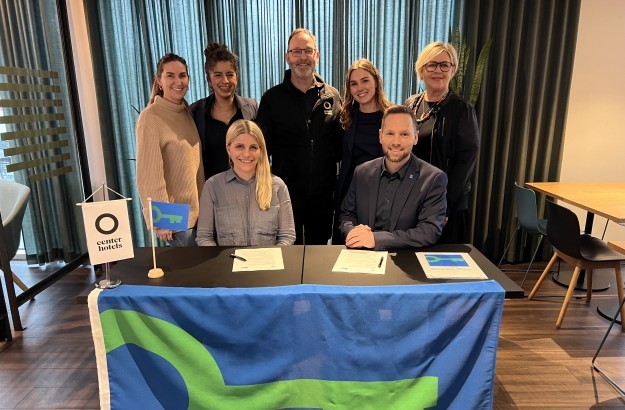 Environmental certification
We have signed a contract with the "Vottunarstofan Tún" which is the National Operator for Green Key in Iceland. The Green Key is an international verification of environmental and sustainability criteria. With the signature we have committed to apply for the Green Key at all our 9 hotels in 2023.
See more!
On our way to becoming green
Our sustainability policy
We recognize the environmental responsibility we have and so we place emphasis on three core beliefs which are to care for the Planet, care for the people and care for responsible business practices.
Care for the planet
We care about the environment and we advocate for environmentally sound and sustainable practices in our daily operation. Our various environmental and sustainability efforts are important to our business, and we strive to create social and environmental benefits for the surrounding community. We recognise our role in the global tourism industry and strive for long-term sustainable management of our activities, thus actively contributing to an overall sustainable development of the industry.
We strive to reduce the environmental impact of our activities by participating in environmental and conservation initiatives.
We continuously monitor our environmental performance and will set sound environmental objectives for continued improvements.
We aim to decrease our environmental footprint by saving on energy and water.
We will minimize the creation of waste and will actively reduce, reuse and recycle.
Using local, eco-labelled, fair-trade labelled, local and/or seasonal non-polluting products, where possible.
We educate our staff and providing regular training on environmental and sustainability issues
We encourage our guests to participate in our environmental efforts by raising awareness on environmental and sustainability matters
Care for the people
We care about the well being of our people, both the well being of our guests and our team. We will not discriminate on the grounds of age, race, gender, religion, disability or socio-economic status and we will not tolerate any form of exploitation or harassment in any form.
We'll ensure that we:
Do not risk the health and safety of our employees and community.
Promote an active and healthy lifestyle
Avoid harming the lives of local people.
Support equality, diversity and inclusion for all positions within the company.
Care for responsible business practises
We welcome and accept the responsibility to create fair, ethical, and transparent business practices. Our approach includes efforts and policies and procedures around ethics, security, diversity, and local corporate governance.
We are dedicated to protecting human rights. We are a committed equal opportunity and equal pay employer and will abide by all fair labour practices. We'll ensure that our activities do not directly or indirectly violate human rights in any country.
We'll always conduct business with integrity and respect for human rights. We'll promote:
Safety and fair dealing.
Respect toward each client and team member.
Anti-bribery and anti-corruption practices.
Adherence to all labour rights.
We will preserve a budget to make donations. These donations will aim to:
Advance the arts, education and community events.
Promote smart, environmentally friendly practices
Assist those in need.
We will encourage our employees to volunteer. They can volunteer through programs organised internally or externally. Our company may sponsor volunteering events from other organisations.
Selection of suppliers and business partners
We can affect the world around us not just by how we act and react, but also by the demands that we put on our suppliers and business partners. We choose them based on:
Legal compliance.
Business and labour ethics, fairness and transparency.
Quality.
Environmental efforts.
Community support.