Imagine Piece Tower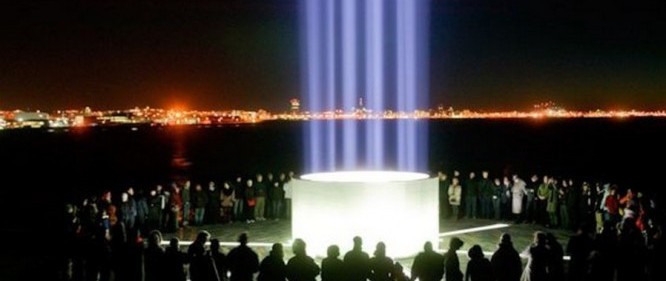 In 1967 John Lennon asked Yoko Ono to create a piece tower for him in their backyard. She apparently never got to it back then, however 40 years later she did, just not in her backyard, but in Reykjavík Iceland.
For many years Iceland has been ranked as the most peaceful country in the world which is the reason why Yoko chose Iceland as the perfect place to situate the Imagine Peace Tower. The sculpture is in the shape of a wishing well and shoots out a powerful tower of light beams into the dark evening sky. The tower symbolizes Lennon's and Ono's continuing campaign for world peace and the words IMAGINE PEACE are inscribed on the well in 24 different languages. The Imagine Peace Tower is located on Viðey Island, a short ferry ride just outside of Reykjavík Harbour and every year, on October 9th, the tower is lit and stays lit until December 8th (the anniversary of Lennon's death). Yoko One visits Iceland every year to attend the lighting of the tower. She also offers free ferry rides to and from the island.
You don't have to be on location to experience the glory as the light beams are well visible in the evening from the city.