Surf's Up!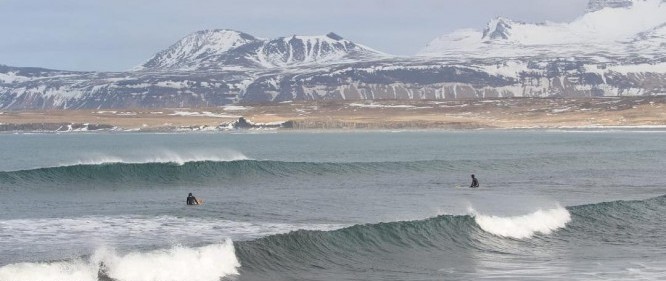 When you're planning a surf vacation, Iceland may not be the first place you think of. However in recent years the surf community in Iceland has slowly been growing and it is starting to attract surfers from all over the world. Despite the cold water, surfers are looking at Iceland as a new surfing destination due to its world class surf spots and unspoiled nature offering surfers a unique surfing experience.
Iceland offers all kinds of surf breaks, from beach breaks and mellow pointbreaks to heavy reef slabs and you don't have to go far from Reykjavík to find good surf spots. The closest one to Reykjavík city is Grótta, located on the west tip of Reykjavík city. You will see Grótta lighthouse and the break is visible from the parking lot. Reykjanes peninsula is one and is known to be heaven for windsurfers and surfers alike with some of the best and most consistent waves in Iceland. It also is very picturesque with it's volcanic landscape and geothermal pools. The magical Snæfellsnes peninsula also has some great surf spots. It is located about 2.5hrs drive North of Reykjavik and has some great south facing beach breaks and incredibly stunning landscape.
For advanced surfers; the very best time to surf in Iceland is between October and March when you can expect heavy storms and big swells. Just keep in mind that during the winter months the water is cold, 3-5°C, and can sometimes drop down to freezing temperature but you can expect some amazing northern lights to light up the darkness.
The summer time is not as consistent and big as the colder months but it is warmer and you get 24/7 daylight. This is a better time for beginners or intermediate surfers to experience some icelandic surf. Arctic Surfers offers surf school / day at the beach programs running June, July and August each year.
As the weather keeps changing in Iceland so you will have to be constantly checking the forecast. But in case the conditions aren't good or the weather is not favorable then don't worry, there are plenty of other things to do in Iceland as you can see in our other blogs.