ICELANDIC FURRY FRIENDS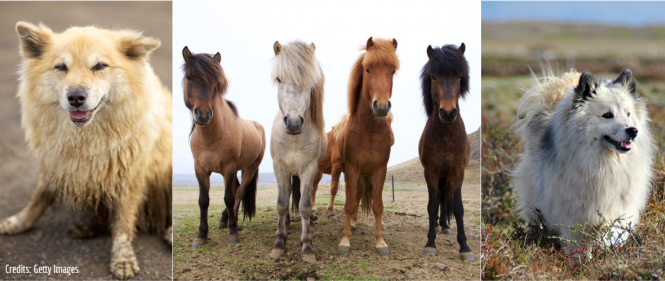 When Iceland was first settled, back in the 9th century, the only native land mammal was the Arctic Fox. They came to the island at the end of the ice age, when frozen water was connecting Iceland with North America. The settlers were the ones bringing all the other Icelandic domestic breeds.
Due to the island's geographic isolation, most of the breeds have remained unchanged since. The Icelandic horse is a well-known example of this and of course the farmers best friend, the Icelandic sheepdog.
These both amiable and furry creatures first came to Iceland with the Nordic Vikings, the original settlers of Iceland.
THE ICELANDIC SHEEPDOG In terrain like in Iceland, the breed developed flexibility, strength, patience, as well as independence. Additionally, with being easily trainable, the dog became an excellent herder of sheep and other domestic animals. Also, with its loud bark, they made great guard dogs and protected the lamb from predators like eagles.
Today, not only he is the farmers' favorite little helper and a great household pet. The Icelandic sheepdog is also helping in a variety of jobs, like avalanche tracking and field searches.
THE ICELANDIC HORSE Like all the other non-native mammals, Nordic settlers brought the first horses on the island. More precisely, coming from British Isles between 860 and 935 AD. Known for being easy-going and friendly, the Icelandic horse is famous for its welcoming and nurturing temperament.
They are exactly like their country, little but strong! Their muscular silhouette, shaggy fur, and small height (140 cm) typify them. Normally, we consider most horse breeds that are shorter than 147 cm as ponies. That being said, you can ask any Icelander, the answer will be the same; they are not ponies, they are horses!
While other horse breeds may perform 3 or 4 gaits (ways of walking), this Nordic beauty has the ability to perform 5. The Tölt and the Pace are the additional gaits to the common Walk, Trot, and Gallop.
The Icelandic horses have marked a lot the history of their island. Worldwide, they are known for being loyal, pleasant and strong creatures. Doubtlessly, they are popular for their camaraderie and comfortable ride.
FUN FACT: During medieval times, the Icelandic sheepdog was quite popular amongst the British. Not only for sheep farmers but also as pets for elites. William Shakespeare even mentioned the Icelandic dog in his popular play Henry V.
Icelanders are very protective of their horse breed. First of all, authorities do not allow any other horse breed to enter the country, and this since 982 AD. Nonetheless, any Icelandic horse leaving Iceland is not allowed to enter back in either! Hence, there are more Icelandic horses living outside of Iceland then in.