Center Hotels career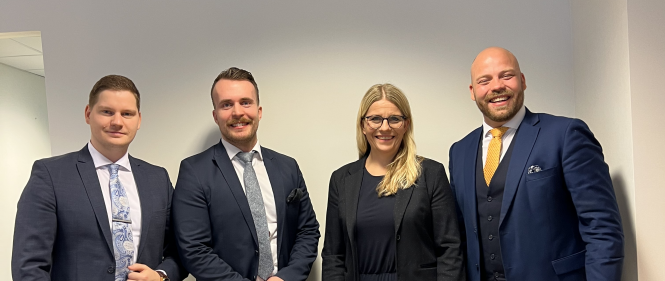 At Center Hotels, we are privileged to have a team of highly skilled and diverse staff members who perform exceptionally well in their respective roles. Our staff members work collaboratively towards a common objective, which is to deliver top-notch services to our guests, ensuring that they have a good experience during their visit to Iceland.
We have for quite a few years been working closely with the Swiss Education Group when it comes to internship at our hotels and restaurants. That has led to the fact that we have numerous staff members that come from different backgrounds and have had quality education in hospitality. A group of our staff members are proud members of the Alumni family at Swiss Education Group. Many of them became a part of the Center Hotels team through internship that lead to them choosing to stay at Center Hotels or come back after finalizing their degree in hospitality.
Four of these staff members attended the IRF event this year recruiting interns that have passion for hospitality and are keen on trying out something new and adventurous as staying in Iceland.
Eva Jósteinsdóttir, the COO of Center Hotels graduated from the Cesar Ritz program in 2001 and has since then worked in the industry in both the United States and Iceland. "I love coming to the IRF to meet current students who are ambitious and ready to take on responsibility in the Hotel industry" We have been providing internships at Center Hotels in close collaboration with SEG since 2015. Many of our former interns now have permanent positions with us and have taken on many leadership roles within our company." At Center Hotels we are able to provide the students with hands on experience, allowing them to fully participate in the roles that they take on.
Alexey Iakovlev, who currently serves as the Hotel Manager at Center Hotels Laugavegur, earned his Bachelor's Degree from the IHTTI-SHMS school in 2016. Alexey began his journey at Center Hotels as an intern, and notably, right from the beginning, he demonstrated a clear ambition to lead a hotel in the future. "I have always held a special place in my heart for SEG & Switzerland, and I cannot stress enough how thrilled and proud I am to join the IRF, but this time in the role of a recruiter."
Steingrimur Hermannsson earned his degree from the Hotel Institute Montreux in 2018 and is currently serving as the hotel manager at Miðgardur by Center Hotels. His experience in the hospitality industry is diverse, having worked in Iceland, the United Arab Emirates and the United States. "It is an honour to be able to take part in the journey of many students as they shape their careers in the hospitality industry through the IRF. To have the opportunity to be part of the students journey in reaching their full potential is a deeply rewarding experience"
Jökull Alexander Egilsson opened and manages the newest Hotel in the chain Grandi by Center Hotels. Jökull graduated from César Ritz Colleges in 2015 and has gathered international experience in USA, Switzerland and Australia. Jökull has been actively attending and recruiting from the IRF since 2016 where he has participated in panel discussions, workshops, and opening speeches. "It is incredibly fulfilling to watch students grow from interns to management and have a positive impact on their careers."
These success stories demonstrate that education in hospitality can provide staff members with the knowledge and skills necessary to advance their careers and become successful hotel managers as these four individuals have managed to achieve at Center Hotels.