Women's euro 2022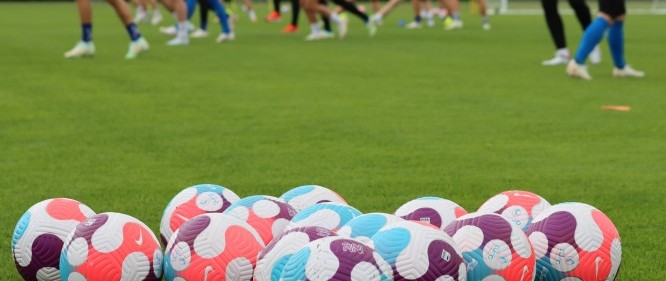 It's that season or rather it's that time again – it's football time and we love it! The women's EURO 2022 is currently taking place in England whereas incredibly talented soccer players from 16 nations are competing towards the goal of being the best of the best in Europe. The tournament takes place in various locations from 6 to 31 July. Our women's football team – the Icelandic one, is one of these 16 participating nations and we are incredibly proud of them.
Iceland, being a country with a population of 364,134 inhabitants, has a huge interest in football. In fact, we have 23,000 football players in Iceland which include 15,000 males and 8,000 females that play and practise football. Many of them start training as early as five years old. The training facilities in Iceland are excellent and our coaches are well educated. That along with a pure love of the game and dedication in training gives us quite a lot of talented players that end up filling our national teams.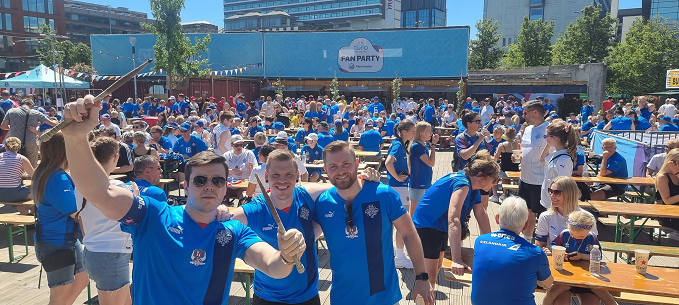 Photo: Tólfan
And now our women's football team is competing at the EURO 2022. A team that consists of ever so talented and hard-working football players we are all rooting for, both from our living room couches through our TV's as well as from the stadium in Manchester where 2000 Icelanders are supporting the team in the way we know best by singing, cheering as well as showing their love with the Viking clap!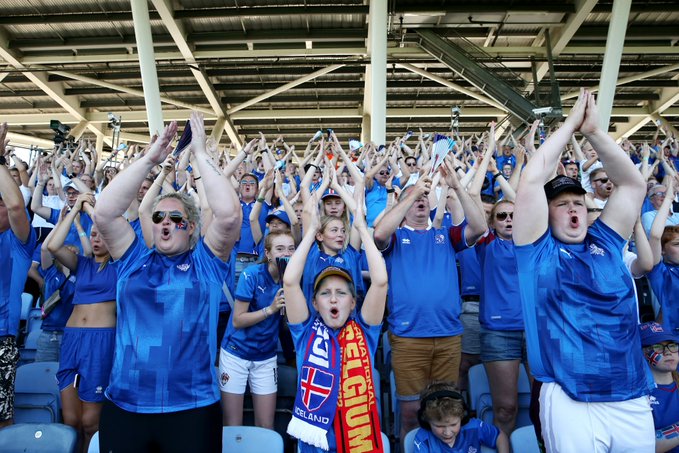 Photo: UEFA Women's EURO 2022
It's been six years since the Viking clap came to be at the men's Euro 2016 in France when our boys (The Icelandic men's football team) reached all the way to the quarter finals – now the clap is back and now being cheered for our women's team by the cheerful Icelandic fans that have travelled to England to support our national team. Amongst the Icelandic supporters is Iceland's prime minister Katrín Jakobsdóttir who is a huge fan of football as well as a big fighter for women's rights which makes it a perfect fit for her being at EURO 2022 supporting our team.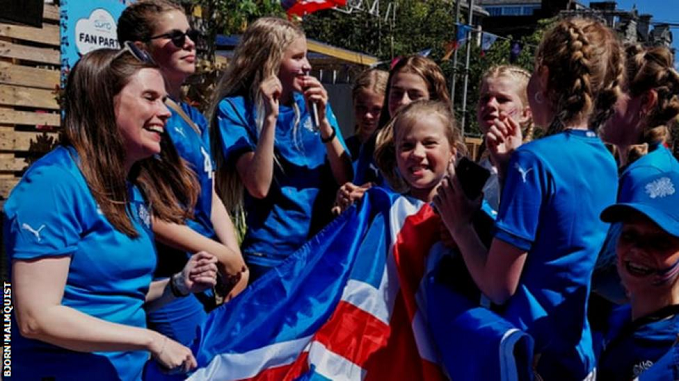 Photo: Björn Malmquist
Iceland competed against Belgium earlier this week in a game that included all the excitement that you want to find in a good match, ending up with a draw 1-1. The next match will take place today when Iceland plays against Italy. There is no doubt that this match will have it all, both in terms of the quality of the players as well as the amazing atmosphere the supporters will offer.
Times are bright for the sport of football especially for women's football with the constantly growing numbers of women wanting to play – who can blame them?
Áfram Ísland!
HUH………. HUH……..HUH….HUH..HUH.HUHHUHHUH
(Meaning Go Iceland and then the sound of the Viking clap)