Extreme Chill Festival 2023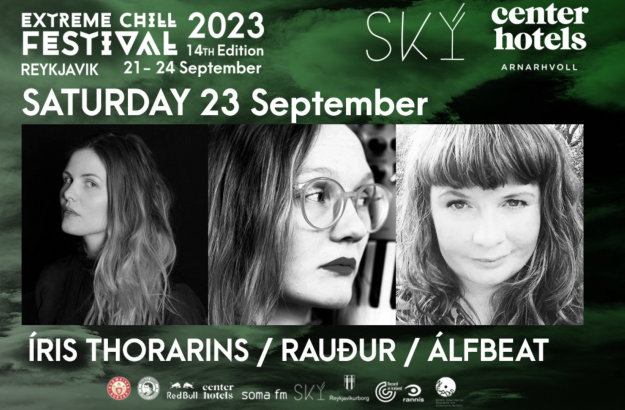 Join Extreme Chill on a mesmerizing journey through sound and creativity for just 14,900 ISK – a modest price for an unforgettable three-day musical experience. Bringing together musicians of all ages and backgrounds, both local and from around the world, as they harmonize their talents amidst the inspiring backdrop of Iceland's breathtaking nature. Brace yourself for Extreme Chill – your passport to a captivating exploration of electrifying Reykjavík.
Join us on Saturday, September 23rd, from 2 pm to 6 pm at the breathtaking SKÝ Bar and Lounge, perched atop Center Hotels Arnarhvoll. Prepare for an unforgettable afternoon as we partner with the Extreme Chill Festival to present an enchanting musical experience.
Get ready to groove to the beats of three exceptional performers: the captivating Íris Thorarins, the soulful Rauður, and the electrifying Álfbeat. Amidst the backdrop of Reykjavik's panoramic skyline, immerse yourself in a seamless fusion of music and scenic beauty.
Íris Thorarins: Composer, electronic artist, and master of multiple instruments. Drawing inspiration from nature's contrasts, Íris blends electronica with the organic, infusing her solo works with the essence of acoustic instruments. Prepare to be captivated by her experimental spirit and innovative musical narratives
Rauður: The musical alias of Auður Viðarsdóttir, an electronic singer-songwriter and producer. From her roots as a member of indie band Nóra to the solo spotlight, Rauður's artistry weaves dreamlike lyrics into a rich soundscape. Her genre-defying compositions, ranging from soulful pop to immersive EDM, are set to captivate audiences.
Álfbeat: Philosophy teacher by day and a versatile DJ by night, she weaves an eclectic mix of genres. From her roots with the Extreme Chill family to a love for ambient and experimental sounds, Álfbeat's musical repertoire also encompasses post-punk, indie, jazz, hip hop, house, techno, and beyond. With over 30 years of experience as a concert-goer and dance enthusiast, she stepped into the DJ world and has graced bars, clubs, festivals, and radio shows with her sets. Tune in to experience her dynamic mixes.
Dates 21/09/2023 - 24/09/2023