The shopkeepers weekend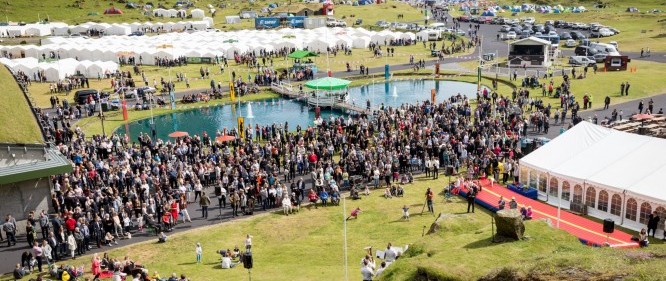 Photo: Þjóðhátíð í Eyjum
Upcoming is the biggest travel and festival weekend of the year in Iceland. Thousands of locals pack their camping gear and make their way to different places around the country to enjoy a long weekend full of activities. The weekend is called Verslunarmannahelgi or "Shopkeepers weekend" and is the weekend prior to the first Monday of August. In fact, that particular Monday is dedicated to shopkeepers and used to be a special holiday for them, but has now extended to a public holiday in Iceland.
This is often considered the last weekend of camping in Iceland before the summer ends, so locals are saying goodbye to a great summer in the best way possible with live music, bonfires, crowd singing and fireworks. This year's festivals and events are even expected to be bigger than ever after a tough two year break due to the pandemic. Thirsty for a great party, the locals have already started preparing for the weekend.
If you are in Iceland make sure you don't miss out as we believe that it will be one of the best weekends of the whole summer. There are a lot of different options for you to choose from, so we have listed up the three main ones we think you should take a closer look at.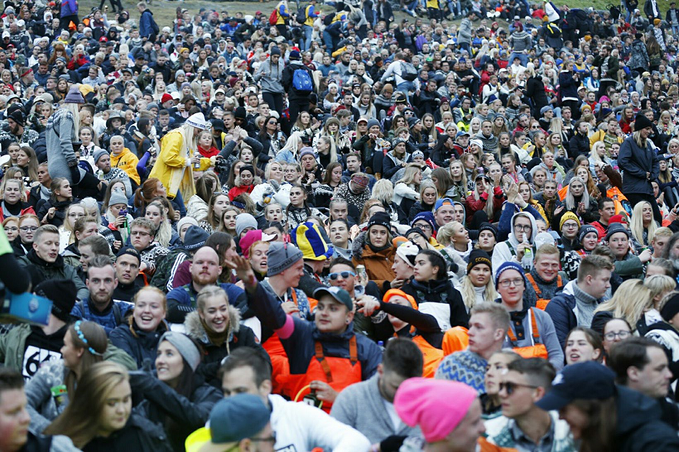 Photo: Mbl.is / Ófeigur Lýðsson
ÞJÓÐHÁTÍÐ
The largest festival taking place this weekend is Þjóðhátíð í Eyjum or "National festival in Westman Islands". The island of just over 4.000 inhabitants becomes full of life as around 15.000 people come together to have the time of their lives. The main events take place in the valley Herjólfsdalur, which is filled with stages, food tents and other activities. A new song specially made for Þjóðhátíð festival is released each year, this year it is performed by Klara Elias.
You can listen to the song of 2022 here: https://www.youtube.com/watch?v=WP1s3Sh3tcg
The festival kicks off with a special dance on Thursday called Húkkaraballið or "The Hook-up dance" which is thought of as the perfect place for single people to meet in order to be together for the remainder of the weekend. On Friday you will be able to enjoy yourself by a bonfire listening to live music performed by local artists. Saturday is also filled with lovely music along with a fireworks show. Sunday night is then the biggest attraction, as the crowd comes together to sing traditional Icelandic songs.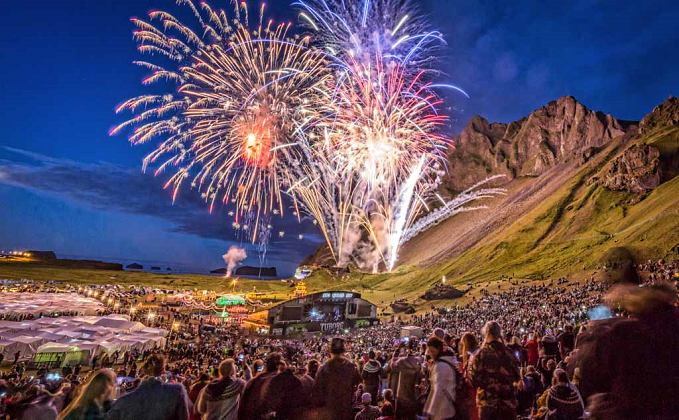 Photo: Booking Westman Islands / Gunnar Ingi
INNIPÚKINN
Those that don't really like camping or leaving the capital can still enjoy this weekend right in the city center of Reykjavík. Innipúkinn or "Home dweller" is a large music festival taking place for the 20th time this year. Local artists perform some of their biggest hits in different spots around the city the whole evening and into the night. If you are staying in Reykjavík this weekend, we highly recommend that you check this out.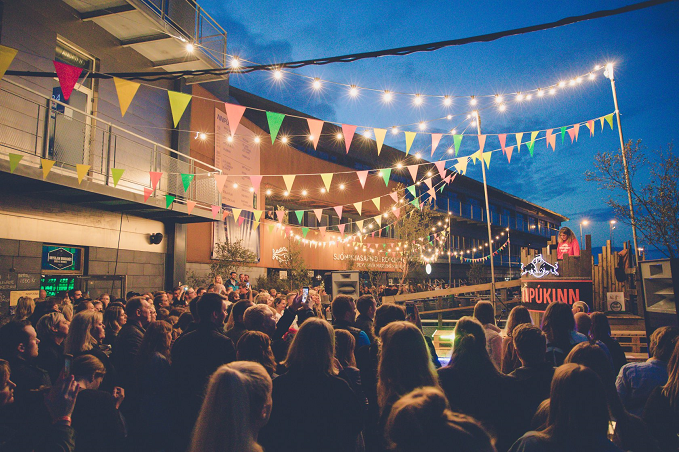 Photo: Innipúkinn
EIN MEÐ ÖLLU
In the largest town of the north, Akureyri, you can enjoy the weekend at a family festival full of fun activities. People of all ages can find something suited for them, such as live music, street performances and funfair. The name of the festival Ein með öllu or "One with everything" refers to how we order a hot dog, one hot dog with all toppings.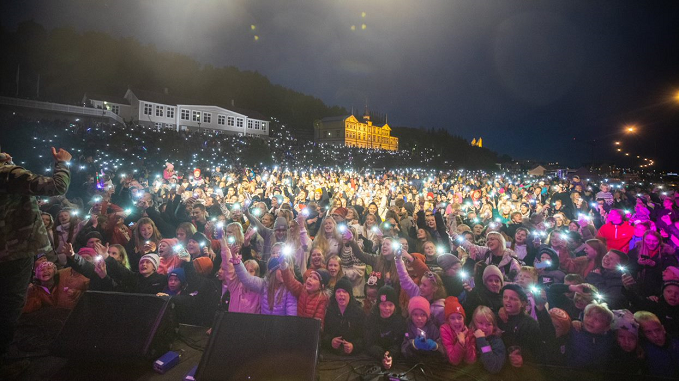 Photo: Ein með öllu